PrincessCrafts Kids Easy Travel Game
Free Printable Children's Travel Game Page
Just another small free gift from PrincessCrafts.com. This is a single page Printable Children's Travel Game. Just download the PDF file below, print and cut in half. The instructions to play are so simple they are printed on the two lines at the bottom of the page.
We do have one note of caution though... you better print several if the trip is longer than an hour. My 5 and 8 year old grandkids can't stop playing once they start. It really is fun and entertaining for any child 4 to ? Better than just watching movies in the car on your new LCD screens.
One final note before we get to the game. If you like what you see, please stop by the main sales site and check out our high quality line of printable scrapbook products. You won't find a better value on the internet!
---
This is what they look like... the links are below. Enjoy!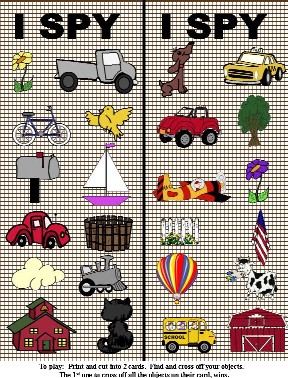 2004 Children's Travel Game: Right Click and "Save target as..."
PDF format - Click Here
If you would like some help using our PDF files, please check out our short tutorial on our main site HERE.
This was a 2004 Free Printable Game or Printable Children's Game from PrincessCrafts.com.